I am trying to keep my blog (this thing) updated regularly, but I'm failing so here are three updates in one!
---
PDP11 Hack Plus
I'll give a quick update on a number of things, firstly with the PDP11 Hack plus board I've been doing. Basically I can't get it jump into the onboard monitor or ODT (Octal Debugging Technique). Whilst I can see a clock and I can see at power up some address and data lines change as if it is looking for a boot strap of some kind, but I cannot get it into the ODT.
Mr Usagi Electric has kindly offered to test my DCJ11 chip for me in one of his PDP11s, you don't know who he is, do check out his awesome YouTube channel, it's full of retro goodness.
So that project is on hold for a while, I do plan to integrate it with the backplane system my other half has been working on which uses DIN41612 connectors, she's made a 6502, 6809 and 68008 based processor boards that plug in with a common pin out.

---
Delta
Delta now has a case, and looks great, again, this is just a technology demonstrator and not a final package. I've brought the USB ports for the FPGA and CPU out to the back panel so I can debug when I need. It is now also powered from it's own internal power supply rather than my huge noisy bench supply.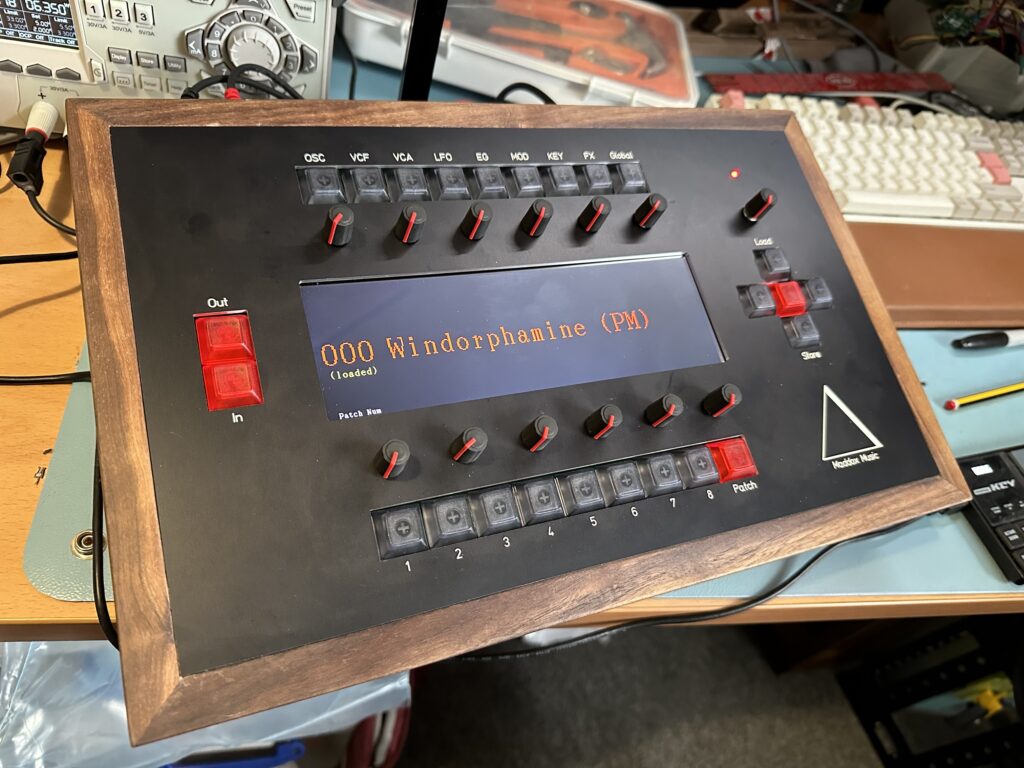 There is still a long way to go, more voices, making more sounds, knobby panel, effects, keyboard modes, etc, etc. But I can at least now demonstrate it and I plan to show it at this years Synth DIY UK in Cambridge to see what people think.
---
Personal
Life is hard at the moment, I've got a problem with my vitamin B12 which means I have almost zero energy most of the time and this can also impact my mood (this may explain a lot). I'm on medication for this but it's a slow process. I've also had my anti depressants changed and whilst I'm not as fed up with life, it's still not easy. There are days when just getting out of bed is a win.
I have a new job which is really interesting and a lot less stress which is a massive help to me.
I am lucky to have my partner, Jayne and my dog, Suzi to keep me going. As Jayne is camera shy, here is a cute picture of Suzi hiding in the shade during the sunny weather